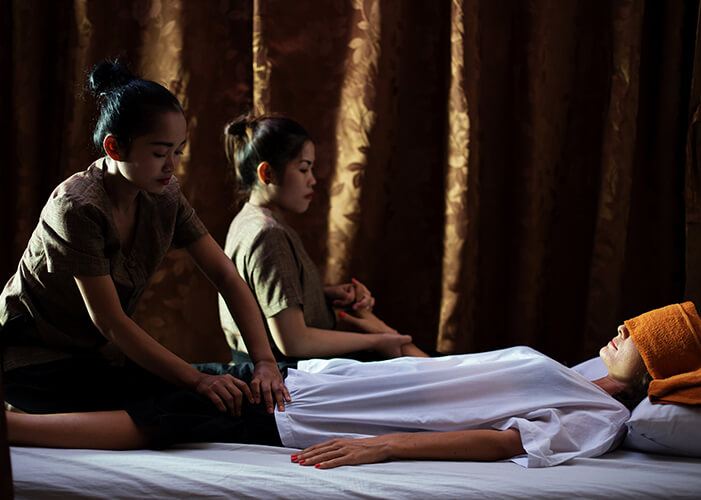 Pay
Not paid a labourers wage, we pay our staff one of the highest wages in Siem Reap; more then double in some cases. With their salary, they are additionally paid a fixed hourly rate of each treatment they perform, as well as keeping 100% of their tips. Additionally, staff are given the option of accommodation, should they require it, free of charge.
Valued
We are more then just a team, we are a family. As such, we look after each other. Unlike many places, our staff do not stand outside in the overwhelming heat, ushering customers in. We know that if you want a real, professional & superior massage, you will not need to be persuaded through our door.
Clean
With showers readily available, our staff have unlimited access to showering and washing facilities throughout the day. As we don't allow them to stand outside in the sun, they are always alert, fresh and ready to give a 110% quality treatment.
Uniform
Unlike many, we do not charge our staff for their uniforms. Each uniform is custom made by a local tailor, with fabrics hand picked by us in Phnom Penh. Our professional uniforms are completely unique.
Breaks
Our team of masseurs work on a rotation system. For every 2 treatments, they are given a 30 minute break to rejuvenate, preparing themselves for the next treatment.
Training & Experience
Our staff are trained consistently by top massage specialists in Siem Reap. For 1 hour each morning, they work together to develop each others skills, be taught new techniques and keep up to date with the latest techniques, ensuring you receive the best massage possible whenever you visit.
Professional
We pride ourselves on professionalism. Our team are trained to be attentive, alert & able to adjust to the customers needs. Unlike many places, our team are silent when performing treatments, allowing you to fully relax.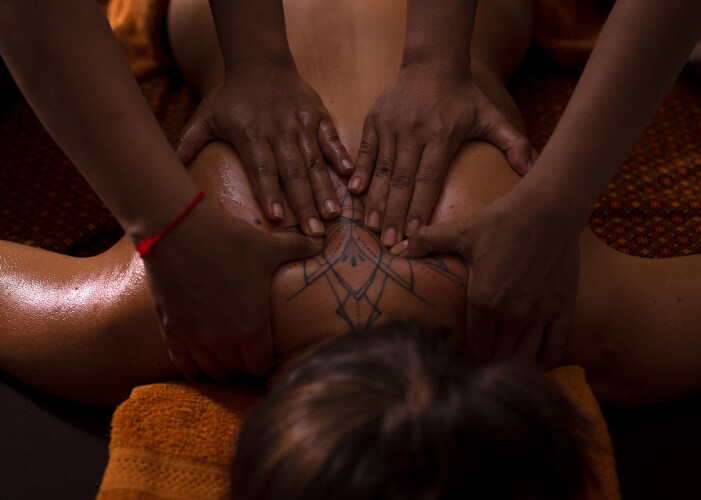 'The Best'
It is not uncommon to hear from our customers, that we are 'the best' spa they have visited in their travels throughout Asia. The skill involved in our treatments combined with our ability to cater to everyones needs, has our customers remembering Siem Reap not only for the Temples.
Training
Trained by the best Siem Reap has to offer in Khmer Massage techniques, and in both Khmer & Western Beauty treatments; our staff are continuously reviewed to make sure they are performing at the highest level to give our customers the best treatments in town.
Fresh
When recruiting a new member to our team, we pay them in full, and train them daily for a minimum of 2 months, until they feel confident and are ready to perform treatments to our specifically high standard.
Products
We use only the finest products for our treatments, imported from Thailand, Malaysia, China & the UK, whilst we support the community – helping the local market vendors – purchasing daily our fresh fruit and flowers exclusively from them.
Custom Packages
Due to popular demand, we have engineered special packages, which include our most combined treatments with a 15% discount. Additionally, we offer a 'Custom Range', allowing you to pick 3 treatments of your choice, and save 10%!
Spiritual Healing
We have created several new massage options for our customer to choose from, including Peaceful Mind, Healing Touch, Cosmic Connection and Spiritual Journey. Please see our Menu for information.
Facilities
Our beds and sofas are customly designed by, and for, Lemongrass Garden Spa for complete relaxation. To ensure our customers are at their most comfortable, we have installed large ceiling fans and air conditioning in our treatment rooms.
First Impressions
We take a lot of time and care delivering a highly presentable spa, and first impressions are key. The natural fragrance from the lemongrass & flowers outside, and the sight of the beautiful plants and flowers we grow offer a pleasant environment before you've even entered.
Confirming First Impressions
Upon your arrival, you will be seated and presented with our menu, our special cold tea brewed with fresh ingredients, and face towel to cool you from the sun. Your feet are bathed with warm water, infused with a variety of natural herbs and salts. We go the extra mile to ensure you are relaxed and prepared for your treatment.
Catered For
Our team of professionals can help you decide which treatment will best cater for your needs, from stepping in off the plane, or after a day walking around the temples.
Aroma
We use expensive burning oils of lemongrass, jasmin, ylang ylang, eucalyptus & lotus throughout the spa to sooth and relax the mind, and ease your senses.
Music To Your Ears
Our music is carefully selected for the perfect background atmosphere. We have chosen only the most therapeutic sounds to enrich the experience and offer complete tranquility.
Take Your Time
We do not believe in rushing at Lemongrass Garden. We will give each customer all of the care and attention they need to feel fully restored. Unlike many spas, we take our time with each customer individually to offer a uniquely personal experience.
Feel Clean
Worried about being sticky and uncomfortable for your treatment? No need, because with showers available, you can wash before (and if necessary) after your treatment as well.